Biography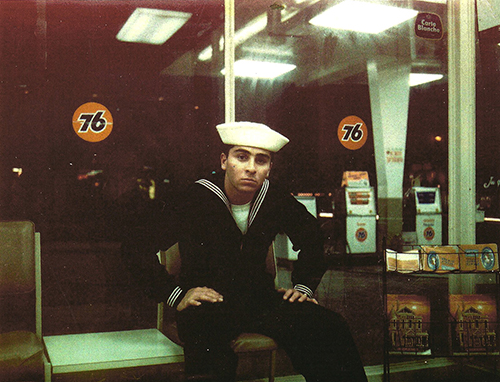 A primarily self-taught American artist, Ron Oden is driven by his love of fine art. He turned to commercial art and graphics to provide a living for himself and his family, and has produced countless creative works for a variety of businesses and industries. For example, story illustrations for newspapers and magazines, print advertising images, page designs, product illustrations, outdoor poster images, book illustrations, illustrations for the clip-art art industry, technical illustrations for catalogs, publication design and layout, and many other types of visual presentation pieces. Oden's work in graphics spanned from the hot type and cold type eras to the digital age.
Oden was born at St. John's Hospital in Santa Monica, California on September 2, 1953. He started drawing at about age eight, and began painting in oils by age 12. At age 13 the young artist drew and painted school murals. Throughout his childhood, Ron's parents encouraged his talent.
Oden attended high school at Hawthorne, California beginning in 1968 and studied art under the school's art program director, Clayton S. Williams, who continued to be Oden's mentor through much of his career.
During his high school years, Ron's parents separated, and he was sent to live with his father. During his summer school break in 1970, at the age of 16, he took a job with Spectrum Industries, a production art factory in Los Angeles, to paint a series of tasteful pictorial panels of nude women to be framed and supplied to hotel chains in the U.S. and abroad. Oden hoped to continue his art training after graduating from high school, however, having come from a family with modest financial means, the outlook did not appear promising for him.
Each year Clayton Williams, his art teacher, was given funds to send three of the most promising students to the Art Center College of Design, then in Los Angeles, for Saturday life drawing studies. In 1970, in recognition of his talent, Williams awarded the entire year's funds to Oden. Aside from motivating the young artist, Williams' recognition greatly enhanced Oden's ability to draw the human form. Mindful of Oden's financial situation, Williams would provide him with supplies he needed, and occasionally found campus art projects for the young artist to perform in return. At his high school graduation ceremonies in 1971, Oden was presented with a monetary award of $225.00 and a plaque from the Hawthorne Art and Cultural Society. On the plaque, was inscribed the words "This award is presented to Ron Oden, for the most promising future talent to the community." Ron was also given the Bank of America Achievement award, and was voted to be the "Most Talented" student by his fellow graduating classmates.
After graduating from high school, the artist was subject to selective service classification for induction into the U.S. military. In our nation's last selective service (draft) lottery held in 1972, Oden pulled number 17. However, before the Army could deliver his draft notice, Oden enlisted in the U.S. Navy. On his birthday, Oden received his draft notice, but it was too late for the Army to claim him; he was a sailor in the U.S. Navy. Oden was assigned to the U.S.S. Prairie AD (Destroyer Tender), first stationed in Long Beach, California, and later, San Diego, California. Oden served on two Westpac tours in the Pacific Rim, attained the rank of Radioman Third Class Petty Officer and held a Top-Secret Cryptographic clearance.
After honorable separation from service, in late 1976, Ron became an illustrator for Mercury Engineers, Inc., SAMSO (Space and Missile Systems Organization) in El Segundo. Several months later, he married Margaret Louise Roach. To support a growing family, Oden took on numerous freelance commercial assignments. In 1979, he received a U.S. Illustrator GS-7 rating from the federal government, and was assigned to a civil-service government illustrator position at the Naval Fleet Combat Training Center Pacific, located at Point Loma in San Diego, California. Two years later Oden was assigned to the Naval Amphibious Base, Coronado where he designed and prepared training materials, illustrations and publications for the Department of Defense. Soon after, Oden was promoted to the level of GS-9.
While working at his government job, Oden returned to school under the G.I. Bill of Rights Program for Veterans, enrolling at Cuyamacha Junior College in El Cajon, California. Working full time by day and attending school at night, Oden filled in late and early additional hours by continuing to accept freelance assignments from local advertising agencies and design studios in San Diego. After working as a government illustrator for three years, in 1979 Oden resigned from government civil-service and started his own design firm, Oden Enterprises, located in El Cajon, which lasted seven years.
In late 1985, the Oden family moved to Tahoe Vista, California at North Lake Tahoe. Shortly after moving there, Oden was hired by Media Consultants, a Reno advertising agency. In 1987, Ron applied for a position as Graphics Editor of the Reno Gazette-Journal. He was hired and worked in the RGJ newsroom for three years. Ron was responsible for all editorial graphics which appeared in the RGJ, including feature illustrations for all sections, the weather page and managing a 5-person staff of newsroom artists.
While on vacation in 1990, Oden inquired about a position advertised in the San Diego Union for a creative services department opening. He was subsequently hired and returned back to the San Diego area once again with his family. After three productive and successful years at the paper, in 1993 Ron interviewed for a position with Computer Sciences Corporation (CSC) in San Diego as a senior computer artist working with U.S. Navy research scientists and engineers. Ron was hired, and received a wide variety of interesting and challenging new assignments, which stimulated his continued growth and revived his career in digitally created graphics. His work at CSC included video and animation applications and early Worldwide Web development, through Technology Transfer programs.
After three years of employment with CSC, in 1996 Ron resigned his position and became self-employed, starting a design and creative services studio called Rainmaker Productions. Rainmaker provided services to diverse business interests, which covered the entire San Diego county, from radio stations to furniture retail outlets.
Two years into Rainmaker Productions, in 1998, Oden moved his business and his family back to North Lake Tahoe. The dust had barely settled, and he received notification that his former job of Graphics Director at the Reno Gazette-Journal became available again. Oden contacted the managing editor who scheduled him for an interview. Up to this time, Ron had always given himself a three-year-maximum rule regarding staying with an employer, believing that all one can learn in a job happens within the timeframe of three years. The RGJ made him an offer to rejoin the newsroom. Oden accepted the offer, breaking his rule. Oden would later note that he did so because in his entire working career, his employment with the RGJ had been the most difficult and challenging, but the most rewarding and satisfying job he had ever experienced. While employed full-time at the RGJ, Oden continued to run his business (Rainmaker) part time.
While employed at the RGJ, in 2000 the artist was contacted by the owner of a local art gallery, Jack Hoyle of Gallery 516. Jack had followed Oden's work in the paper and expressed to an advertising representative from the paper his interest in meeting with Ron and seeing some of the artist's works for possible consignment. The meeting was arranged, and resulted in agreements to display some of Oden's paintings. Within a few months, Hoyle arranged for Ron to be given his first public solo exhibition, which proved to be successful and resulted in numerous sales.
Later that year, Jack Hoyle, retiring from the business, sold Gallery 516 to Ron Oden. During 2001, Oden went to work on a large 60" high by 72" wide canvas titled "Liberty's Children," a work commemorating the attack of the World Trade Center in New York. One year after the event in 2002, Oden planned a 30-day exhibition and invited artists to create and display their inspired works on the subject for a memorializing event. During that event, nothing was for sale. Visitors to the gallery were steady, and a visitor log book was kept.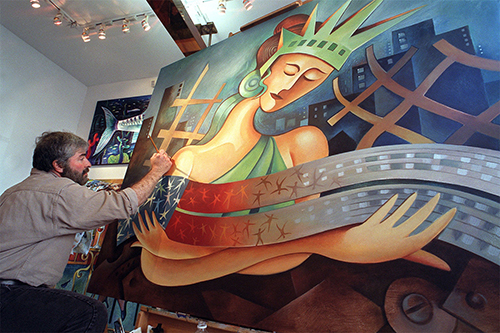 In 2002, Liberty's Children was presented to governor Kenny Guinn of Nevada. Governor Guinn in turn presented the painting to the Governor George Pataki for the people of New York on behalf of the people of Nevada. Today, the painting is part of the permanent collection of the New York State Museum in Albany.
From 2001 to 2003, Oden taught Media Graphics at the Reynolds School of Journalism, University of Nevada, Reno, part-time, while continuing to work at the RGJ.
In 2005, after ten years with the Reno Gazette-Journal, Oden resigned his position as Graphics Editor, re-established his creative services business (Rainmaker Productions), renaming it Ron Oden Design & Illustration. Today, in addition to running his business, Oden spends time each day painting, drawing and etching, and has recently begun to carve sculptures in marble and alabaster. To date, the artist has produced greater than 500 paintings, 1,000 drawings and life studies, has illustrated more than a thousand images, and has illustrated numerous children's books, and a book on 29 towns in Northern Nevada titled Stories from the Sagebrush, Celebrating Northern Nevada at the Millennium.
Through all of this, Ron and his wife, Margaret (Maggie) managed a family of 5, including their three children; Veronica, Ron and Branden. Ron and Maggie continue to live and work at Lake Tahoe, California.
You can also download or view my latest resume by clicking here.
AWARDS
-1971 Bank of America Achievement award: In field of art
-1971 Hawthorne (Calif.) Art and Cultural Society scholarship
-1971 Most talented: Hawthorne (Calif.) High School Hall of Fame
-1976 Best illustration: Marketing Tools, professional group
-1989 First place: Best of Gannett: For a body of work
-1990 Copley Ring of Truth: San Diego Union-Tribune: First place advertising
-1991 Copley Ring of Truth: San Diego Union-Tribune: First place local ad
-1991 Copley Ring of Truth: San Diego Union-Tribune: First place classified ad
-1991 ANME Advertising Award: First place, international, for Century 21
-1999 Special Citation from the publisher: For Illustrating "Stories from the Sagebrush, Celebrating Northern Nevada at the Millennium," written by Don Cox, photographs by Jean Dixon and paintings by Ron Oden
-1999 First place: Information Graphic, Nevada Press Association
-2000 First place: Best of Gannett for information graphic on how gold is produced in Nevada, and a body of work
-2000 First place: Information Graphic, Nevada Press Association
-2000 Second place: Information Graphic, Nevada Press Association
-2000 Second place: Best Illustration, Nevada Press Association
-2001 First place: Information Graphic, Nevada Press Association
-2001 Second place: Best Illustration, Nevada Press Association
-2002 First place: Information Graphic, Nevada Press Association
-2002 First place: Best Illustration, Nevada Press Association
-2002 Second place: Information Graphic, Nevada Press Association
-2003 APNEC (The Associated Press): First place, Yucca Mountain
EDUCATION
Hawthorne High School, Hawthorne, CA
El Camino College, Gardena, CA
Cuyamacha College, El Cajon, CA
Art Center, College of Design, Los Angeles, CA
OTHER
Listed in the "American Artist s Bluebook," by AskArt, AskART.com
Painting titled "Liberty's Children" resides in the New York State Museum. "Liberty's Children appears in "The Little Brown Handbook," 10th edition, by Fowler, H. Ramsey Aaron, Jane E., Addison Wesley, publisher
Nominee for the 25th Annual Governor's Arts Award (Nevada).
Illustrated numerous books, including books for children, and one Spanish learning book, published by Jostens Learning, titled: Las Tres Cabritas. Stories and further Information on the artist appear in the following publications: Reno News and Review, Reno Gazette-Journal, Nevada Historical Society Quarterly, Nevada Governor's Website (Liberty's Children).
Public work appears:
New York State Museum, painting titled "Liberty's Children," a piece on 911 La Mesa Post Office, La Mesa, a scenic train mural Reno Boys and Girls Club, two paintings: "City Dog in Reno," and "Neon Fish Tank"
ASSOCIATIONS
Past member, Society of Illustrators, San Diego